Welcome to another fun filled Non Scale Victories!! I LOVE THIS LINK UP!! Here at From Chunky to Funky we (as in ME! and my dog of course) fully beleive that the little number on the scale SHOULD NOT define your successes! Sure, its a great tracker, but the number does not define you or your victories! This link up happens every Thursday with the Kick-Ass Katie (or KJT) and the Lovely Lex! You can find Lex
here
and Katie
here
!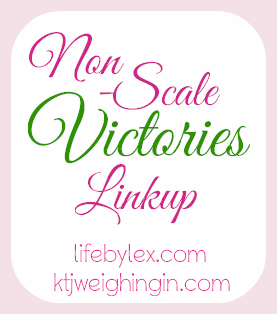 So... My victory of the week? Logging for 15 days straight! YE-AH! I've used MFP several times in the past and I've always given up by day 3 or 4... Too much work, no time, excuse, excuse. I've stuck with it! (Add me! I love MFP friends!! Dramallamaduck)
I also managed to get over my bronchitis and get some time in on the elliptical! I am definitely a member of the Red Face Club. I'm still a bit sore from the lunges and squats I did, but it was alllll worth it.
I was going to try again last night, but Mom and I wound up taking my great-grandma to the ER. Her CHF was acting up and she has pneumonia. I only got about 4 hours of ZZZZZs last night. Dead women walking...and driving....and teaching... Awesome.
What are your victories this week? Nothing is too big or too small :)