Hola blogosphere! Welcome to my very first link up with
Katie
and
Lex
and we are celebrating the week's non-scale victories!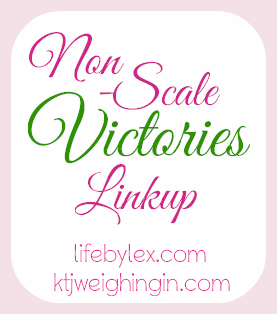 The object of this link up is the celebrate something we've accomplished in the path to healthier living, wihtout focusing on that dastardly number on the scale. This can be an accomplishment in exercise, diets, or maybe just the power of positive thinking.
My victory of the week is the fact that I have managed to eat a good, healthy breakfast every day! I've had either fruit, a Special K Bar or a Jimmy Dean Delight every day. No Sonic toaster sammiches, no Chick Fil A minis, no tater tots, no Whataburger. No fast food breakfasts! And another part of the victory? Mom has been eating at home with me! I've been watching my intakes on My Fitness Pal (be my friend dramallamaduck) and I've had some not so awesome days, I've had some really good days too! Celebrate the small stuff my dear blogosphere.. Small victories, small steps, big results!