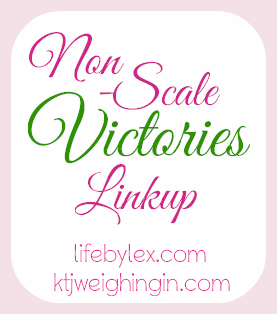 Good morning my dears! It's Thursday! Which means it's my FAVE DAY OF THE WEEK IN THE BLOGGING WORLD!! It's time for another fantastical edition of Non-Scale Victories! And boy have I got a good one today..
Piggy backing off of my
post
yesterday when I mentioned my mom telling me that I'm
a crabby, cranky bitch
unpleaseant when I am off my game with eating. I've made a correlation between good eating habits and my moods... Good eating=nice Sammie. Bad eating=psycho bitch from hell Sammie. Lesson learned? Yep. So... My victory this week?
I'VE STARTED LOGGING AGAIN!
Seriously... If you are a MFP junkie, you should so add me (dramallamaduck)! Woot! I have found that when I log my calorie intake, I tend to eat better. Maybe it's because I really don't want to know how many calories are in my Sonic Toaster sammich.
What are your victories this week? I can't wait to read all of them!!
-Sammie