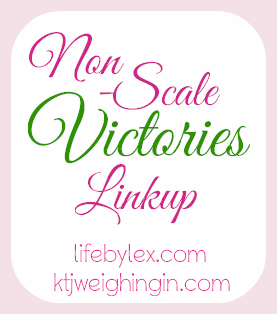 "The scale can't measure your will, your drive, how much time you put into your food plan, or how many temptations you said no to. It can't tell how many old habits you broke or new, healthier habits you started. It doesn't know the effort you put in at the gym, and it doesn't care. It won't heap praise on you because you chose the stairs over the elevator or know that you passed on a slice of a colleague's birthday cake even though you wanted it with all your heart."
- Kim Bensen
I had to steal the above quote from the beautiful lady
Katie
, simply because it completely reflects my exact seniments with the journey that I'm on. The scale does not define you. Your beauty, your health, your worth is not determined by the number on the scale.
So what is my victory today? I'm back to my healthy breakfast ways! I
got ran over by
fell off the wagon when it comes to healthy breakfast during my trip to Galveston a couple weeks ago. I've been ok with lunch and struggling with portion control at dinner, but breakfast went flying out the window. I am proud to say that I've only eaten Chick Fil A once this week and every other day I've had Greek Yogurt and something else (fruit, protien bar, etc...).
I've also started cutting back on my soda intake. You and I both know that Coke Zero is crack soda to me.. Almost as back as the Caramel Delights being crack cookies... Damn you adorbable Girl Scouts and your crack cookies. Normally in the morning I'll get myself a giant Coke Zero where ever mom stops for breakfast.. Guess what's in my cup today? Diet Green Tea. Thank you Sonic!
I will admit that I tried to weigh myself on Monday morning, just to see what would happen... Wellllll... One of my dogs barfed on my scale a couple days before... It sounds icky, but it's true.. I didn't realize the extent of the damage. Needless to say, my scale is now having epileptic seizures. Awesome. Oh well!
Until next time my friends :)
-Sammie