First off... It's that time of week!! Time for another NSV Link Par-tay with the beautiful ladies,
Lex
and
Katie
!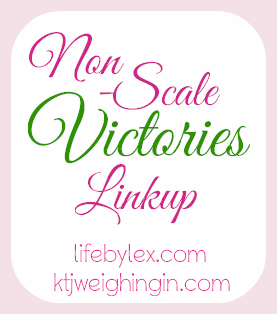 What is a NSV (Non Scale Victory)? So many of us have a bit of a screwed up relationship with the scale... We let it define who we are and how we feel about ourselves. The NSV link up is a way to take the focus off of the scale and highlight some victories that may have NOTHING to do with weight loss.
This week... I celebrate beginning the C25K program! Last night I finished week 1 day 2! I got SUPER winded and considered quitting early.. Then I heard the nice lady on the app say, "You're half way there! Keep it up!"
Yeah buddy!
For those of you that asked, I track the runs on the Free C25K App! It gives me the prompts to start running, start walking, and the half way and one minute warnings. Plus I can control my iTunes without having to close the app. It's so nice!
Maroon hoodie.. Imagine!
I sent the picture above to my best friend, who is currently in grad school in Oklahoma.. He sad he could see a difference in my face! AHHHH!!! That was amazing. (I take awful pictures.. Ugh!). And this morning when I made my breakfast, my mom mentioned that she could see a difference! PEOPLE ARE NOTICING!!!!!!!! That makes me feel really good :)
Also wanted to apologize for being MIA yesterday. It was a fun filled day of yard work for me. I wasn't able to sit at my computer for more than about 5 minutes. Then the electricity went out.... Awesome.
I will be writing a post (probably this weekend) about the topic below. I had something scary happen last weekend, which absolutely proves my point. It's more mental than physical (for me anyways).
Until next time blogosphere! Stay sane :)
-Sammie
P.S. Congrats to Sara B.!! She is the lucky winner of the My Favorite Things Giveaway! Here's hoping that we might hear from her once she gets her swag in the mail! Look for another giveaway next month! April's might be bigger, since it's my birthday month! WOOHOO! :)