Good morning my fantastic, beautiful friends! Welcome to another day inside my head. Today I'm linking up twice! Once with
Katie
and
Kim
for the Spring Training 5K Challenge and once with
Breanna
for the Me, Myself and I link up!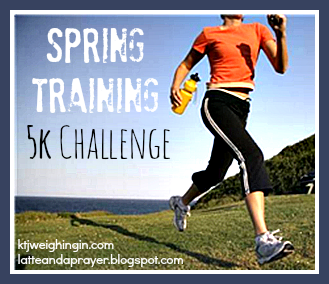 For Sprng Training... Should I first mention how excited I am that Spring is ALMOST here! I'm super excited. Spring is my absolute favorite time of year. There is nothing I love more than all the colors of a Central Texas Spring (the wildflowers, the crops, the baby animals) and you cannot beat the night sky over my house in the spring time.
I've hit a couple stumbles in my C25K journey. One big one being meniscus pain in my right knee. One day (soon I hope) I will post a picture of my gnarly looking knee. I've had 3 surgeries on it so far, and it's quite misshapen and funky looking. When I originally injured my knee in HS, one of the things that I tore was my meniscus. The other problems WAY overshadowed that injury, so we fixed the big stuff and I healed. I think my new activity level has inflamed my knee. I'm very tight and sore when walking. Usually Motrin helps, but I don't want to over do that. I'm probably going to get one of those support bands for the knee. Hopefully that will help.
The other stumble is the need for new running shoes. I've posted a picture of my current shoes, but I wasn't having any issues with them... Until Sunday... I started having pain in one of my feet while running. I think it's time for real shoes... Boo. Ain't no body got money fo dat.
On a positive note, I did manage to actually finish week one! WOOT!
Forewarning: Sometimes I sound a bit awkward when talking about myself. In fact, during things like these, I tend to write like I talk. Woo?
1. Do you celebrate Saint Patrick's Day? How?
Not really... I just wear my green and sport the natural ginger. Nothing else needed :)
2. It's March which means spring break! We want to know how your spring break went or if it hasn't happened yet, what will your spring break consist of?
Spring break was eventful! I think I posted about it yesterday... Lots of visiting friends, shopping and some super tasty cake. Oh and Glee. Lots and lots of Glee.
3. A Zombie Apocalypse happens and you're stripped of all your luxury items. What beauty product would you miss the most?
My Suave Lotion... It smells quite nice and I HATE having "crispy" hands.
4. What is the one cause that you feel most passionate about?
Improvement of the public education system in Texas. We are doing the youth of America such a great injustice by teaching them how to take a test. So many educational days are wasted on testing arbitrary knowlege that politicians think children should know. How's about you step down off your high horse and trade places with me in the classroom for a week. That will change your damn attitude.
5. What's the #1 most played song on your ipod?
Until next time blogosphere! Stay sane (but not too sane!).
-Sammie