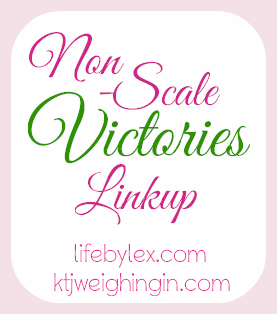 It's that time again my dears :) Time for another NSV Link Up!! I may venture to say that this may be the best part of my week. I love reading about how everyone is doing and how many things we have to celebrate and be thankful for!
This week my victory is HUGE! Especially for me. I am definitely the type that self-sabotages. If things don't go my way, more often than not I will find some lame ass excuse and quit.
This week... I didn't... I didn't quit... I posted a 3 pound gain for the first time and I DIDN'T QUIT!! I didn't take a picture and I was really bummed out when I saw it on Monday morning. In the words of my mother, "Why let something so small throw off progress?" Thanks Mom.. I didn't..
I'm eating my good, healthy breakfast. Packing my lunch. And most importantly, I'm surrounding myself with some of the best friends a girl could ask for. I will admit that this week has been a bit difficult with the break up. I find myself missing the comfort of having someone to text/irritate/harass 24-7. I'm spiritually in a better place now. He's healing, very slowly.. I can't help but to feel terrible for him. I've been through that heartache before. I know how he feels.
This post isn't as long as they normally are... I just don't have a whole lot to say I guess...
Until next time blogosphere... Stay sane my loves..
-Sammie