Gooooood morning my dears! Welcome to another fabulous installment of Non Scale Victories! I just ADORE this link up (almost as much as I adore the beautiful hostesses
Katie
and
Lex
) ! It takes all of us ladies (and gentlemen) in the weight loss blogging world and completely takes the focus off of the scale. Who cares what the scale says? That little asshole doesn't define you! Beauty isn't measured in pounds!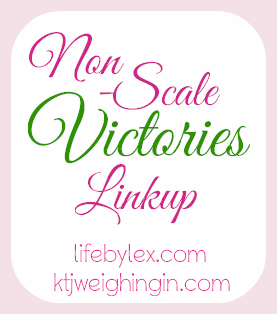 This week has been (in my
big headed
not so humble opinion) pretty freakin fantastic in the way of Non Scale Victories. I've finally gotten back into my routine of walking nearly every night. I say nearly because I did take a break on Tuesday due to my leg being sore... I even went on a 3 mile walk last night. After the cupcakes, fried ice cream, and brownies.. I needed that walk. I was in the zone too! It was awesome! Music blaring, 16ish minute mile pace, I was there... It was awesome... Very mind clearing.
I'm also proud to say that I only ate ONE cupcake yesterday... I bought 12... I ate 1.. There are still 11 cupcakes in my parent's house that haven't been touched.. Go me!!
Non fitness related- I started a new book! It's called Moon Called. It's the first book in the Mercy Thompson series. It's Sci-Fi deliciousness.
P.S. I am still putting things together for the April edition of My Favorite Things! Check back tomorrow for the giveaway!