Good morning my dears... I'm writing to you with a very heavy heart this morning. The West, Texas fertilizer plant tragedy hit a little too close to home. Knowing that among the missing are First Responders makes me a tad weepy. You may think I'm crazy for this, so let me tell my story...
I've never talked about it much on here, but I'm a first responder. I volunteer with the fire department in my hometown. I'm an EMT/Firefighter. I volunteer to give back to the town that's given me so much. I volunteer for those who can't. I don't do it for the money, the ego stroking, or to be a hero. I do it because I can and I know that there are people who can't. I'm not an attention whore and really it's a little uncomfortable to talk about. I don't view myself as a hero. I never have. It's just something that has to be done...
I haven't been very active in the department lately due to my job and lots of pissant political bullshit going on within the department. I will say though, some of the most humbling and satisfying moments of my adult life have taken place on the scene of an EMS or Fire call. One of them I want to share involves a little girl that used to attend the school that I worked at. She has a heart issue that sometimes makes her heart race. She usually gets really scared and cries. One night I was called to her house... She recognized me from school and would not let anyone else touch her until the ambulance crew got there... Then she asked me (not her mom or any family, but me) to carry her to the ambulance. I can say that when I arrived her heart was racing along around 180 beats per minute. When I put her in the ambulance, the breathing exercises that she and I did together, along with my soothing and the oxygen lowered her heart rate to about 100 bpm. Still not great, but a major improvement.
It still touches my heart that the little girl wanted me to carry her... Not her mom or anyone else... Me... I don't claim to be a hero... I'm no hero.. I help people because I can... I have the physical and mental capability, why waste it?
I struggled a lot last night with my desire to hop in the car and drive to West. I wanted to go help. I didn't. I regret it. I should have gone as soon as I heard about the explosion. Now they are asking that people not come. They are innundated with volunteers. This warms my heart, knowing that so many answered the call to help. I did give blood yesterday, so hopefully my O Positive will go to someone that needs it.
Texans are a resiliant people. We will recover, but we will never forget.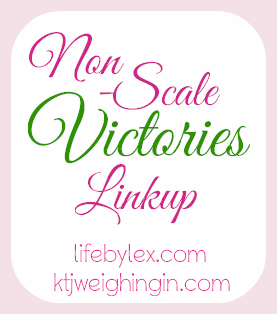 I guess for this week's NSVs, I'm going to go with the fact that I'm slowly climbing back into healthy eating after my vacation. I've been the suck at tracking lately, but it's happening. Slowly but surely. I'm still going out and exercising, but tracking is waning. Probably not a good thing, but I'm not in much of a mood to beat myself up about it.