Hello my dears! Welcome to another installment of the Spring Training 5K Link Up! I pretty much adore this link up. I just recently (past few months) started exercising and this is a great way to stay accountable! Plus we are all running/walking/elliptical-ing/biking/shuffling a 5K together on June 1st!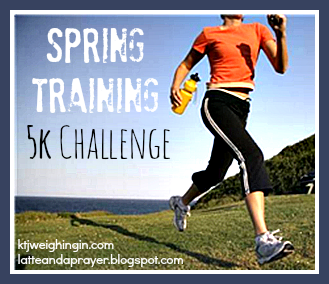 This weekend was actually pretty good for me in the way of fitness. Fit-nasty. Bam. Sorry.. I'm in an odd mood today. I'm somewhere in between a state of euphoria and exhaustion. Sleep was fitfull last night. Odd dreams about people I've never met in person before (but that's a story for another time). I can't say that they were bad dreams, in fact most were quite good (if you know what I mean!). They just made me wake up a lot :-/
Time to windex the mirror... Dog noses..
Anyhizzle... On to the fit-nasty talks... I finished Week 3 Day 1 of C25K on Sunday night. And let me tell you... I thought I was going to die. During week 3 you do a 5 minute warm up walk, then 90 sec of running, 90 sec of walking, 3 min running, 3 min walking, and repeat. The you end with a 5 minute cool down. Let me tell you... 90 seconds of running? No sweat. I got that shit.. 3 minutes? I was pretty sure my lard ass was going to pass out. I didn't stop though... Nope.. I kept moving my turtle speed bum and finished. BAM!
Last night was a "rest day" for C25K, so I changed up my routine a little.. I hopped on my elliptical for a 7 minute warm up, then I walked for 14 minutes (about a mile). I did throw in a small smattering of running here and there, but it was a good walk for the most part. The I put on my crazy hat... I decided that I would take on the beast..
Is she even wearing drawers?? That's nasty... Ain't nobody got time fo dat.
Last night wasn't so bad... I did 2 sets of 25 squats with some sweet dance moves separating the sets. I'm pretty sure my neighbors think I'm on a hallucenogenic drug binge, but whatever. Can't hold my epileptic seizures sweet moves. I think the odd part is the lack of soreness today... I'm a little sore, but not really. I have some really odd soreness in my hip/abdomen area... Like the place where my pelvis and my abdoment meet.. Like up high.. It's an awkward area to have sore.
One of my biggest goals is do have a butt.. Like a real badonkadonk. I want a booty that would make Beyonce say, "Dayum." (If you follow me on Instagram, you've heard that line before... If you don't follow, you should! User name: fromchunkytofunky). My account is protected, but most everyone that requests I will let follow! I know that squats are one way to help you tone and perfect your epic lady lumps. I want to be a whooty... For those of you who don't know what a Whooty is, feast your eyes:
Something for me to ponder on today..