Goooood morning my sweet loves! It's Thursday!!! Meaning 2 things... #1 It's a NSV Link Up Day!!!! And #2 Tomorrow is Friday! I'm really excited about this weekend. SUPER FREAKIN EXCITED!! So many plans :) I'll be sure to post pictures on Monday. Let's just say, some things around here are going to get shorter!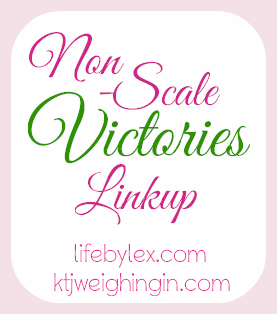 So... On to my Non Scale Victories for the week..
My NSVs focus around my realization of my actual goals for my life. Yesterday I touched on what I want as far as life in general. Since I try to keep my NSVs fitness related, I spent some time contemplating on what exactly my fitness goals are.. I've come to realize that my goals aren't about getting down to a certain size, or really a certain weight for that matter.This is the list I've come up with:
-I want to be able to run a 5K without wanting to die... Or vomit...
-I want to be able to get through an entire yoga DVD without having to rest or modify the poses.
-I want to be more comfortable in my own skin.
The last one is probably the biggest hurdle, but it's also the goal that I'm working on the hardest. I have a wonderful friend that never hesitates to tell me how amazing and beautiful I am. He even had me send him a picture when I thought I looked my worst (just waking up, puffy eyes, drool, frizzy ginger poodle hair, still in the throws of sleepy grumpiness) and told me that even at MY perceived worst, I was still very pretty.
Isn't he sweet?
With his talks and coaching, I'm slowly starting to beleive what he's saying. I don't look in the mirror and pick myself apart anymore. Instead I admire what I see. I see the curve of my waist and the fact that I do have an hourglass shape. I can see the subtle differences that the running and squats are making in my legs. I want to be stronger, not skinnier.
This all links into a quote that someone posted in a forum on MyFitnessPal this morning. Immediately after reading, I shared it on my personal Facebook, this blog's Facebook and I knew I would link it into my post here. I found it very moving.
"It doesn't make sense to call ourselves ugly because we don't really see ourselves. We don't watch ourselves sleeping in bed, curled up and silent. With chests rising and falling with our own rhythm. We don't see ourselves reading a book, eyes fluttering and glowing. You don't see yourself looking at someone with care inside your heart. There's no mirror in your way when you're laughing and smiling and happiness is leaking out of you. You would know exactly how bright and beautiful you are if you saw yourself in the moments where you are truly beautiful." Author Unknown